Welcome to the Practical Magic Blog Party 2010!!!!!!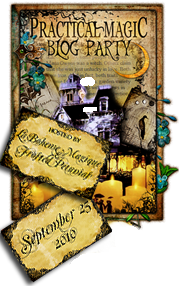 The Midnight Margarita scene is definitely my favorite scene in the movie! I bet I'm not alone! Margaritas... not-so-much my favorite mixed drink. Tequila and I parted ways many years ago. It was a love/hate relationship. Occasionally our paths meet again, we do some catching up, wax nostalgic... I romanticize about being young and free in my 1987 Toyota Tercel hatchback and any number of oh-so-fine but malleable boyfriends that I would eventually tire of and toss aside out of boredom... We become instant friends again, like no time has passed at all. We laugh, we sing, we dance.... but it always ends the same. Painfully. And when I wake the next morning (or afternoon), my head feels as though it is in a vice grip, and someone is using a Makita 18V Lithium-Ion Cordless Hammer Driver Drill on my skull. Buh-bye Tequila, don't come around here no more.


This dark-colored margarita is perfect for
adult Halloween parties. Rum, (no Ta-kill-ya)
Blue Curacao, grenadine and a homemade
Lime Mix combine for a delicious drink. If you have
made enemies with tequila in the past, this is the
margarita for you!







Ingredients for each serving:
2 ounces dark Rum
1 ounce Blue Curacao
1/2 ounce Grenadine
4 ounces Lime Mix (see below)
Lime Mix:
Blend together 1 cup lime juice and 1 cup sugar until sugar is dissolved. Keep refrigerated until use.
Fill a shaker with ice cubes, add all the ingredients and shake until well blended. Strain into a margarita glass filled with fresh crushed ice.
You must use the exact ratios to result in this deliciously dark margarita that is perfect for any celebration, but particularly perfect for a MIDNIGHT MARGARITA PARTY!



(of the Strawberry and Diet Variety)
5-6 large frozen strawberries
1 cup cold water
1 individual packet of Crystal Light Lemon/Lime Drink Mix
2 heaping teaspoons of Splenda
2 ounces of Jimmy's favorite Tequila - El Diablo

Step 1 - Blend all ingredients until thick and smooth.
Step 2 - Salt the rim of a glass and pour.
Step 3 - DRINK!
Makes one HUGE serving or two regular servings. Enjoy.....
Click
HERE
for the video!
Eye of newt, toe of frog, wing of bat, tongue of dog.
Adder's fork and blind worm's sting…
Barbados lime is just the thing.
Fragias salt, like a sailors stubble…
Flip the switch, and let the cauldron bubble!
Peace, love, and happiness,
Earth Mother